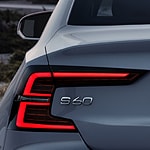 At Volvo Cars Bend, we believe that your car should bring light and love to your everyday life. The Volvo S60 is a Scandinavian luxury sedan that is a popular choice among our customers. The following exterior features demonstrate how the S60 can light up your life.
When you want to make a good impression, you showcase your best features upfront. The S60 is a vehicle engineered to reflect this principle. Its distinctive headlights are shaped like Thor's Hammer and lend a sharp, icy look to every trip through Bend streets.
The S60 also features a panoramic roof with an open-and-tilt window. You can let some natural light in to brighten your day or opt to open it for a rejuvenating burst of fresh air. The Volvo S60 can bring joy to your journey and make every ride a bit brighter.