Research the New 2023 Volvo S90 in Bend OR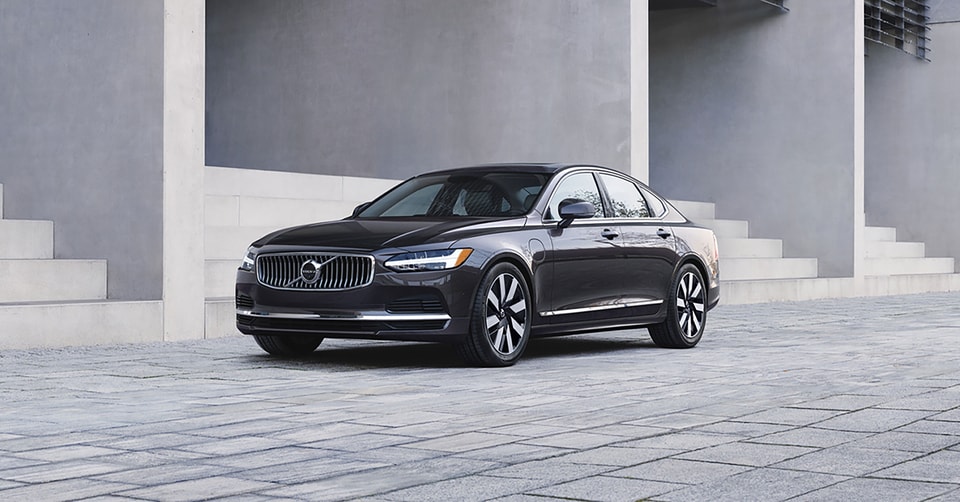 Featuring the 2023 Volvo S60 at Volvo Cars Bend
The 2023 Volvo S60 is a midsize luxury car with unique features and an amazing interior. It has a powerful engine, lots of safety features, and is perfect for people who like to take their family with them on trips. This vehicle is also a dream for people who love to go off-roading in their car and enjoy the beautiful scenery. Check out what the 2023 Volvo S60 near Portland, OR has to offer.
Performance Features
The 2023 Volvo S60 features a variety of powertrains. The first is non-hybrid, a turbocharged 2.0-liter inline four-cylinder engine. The engine produces 247 horses and 258 pound-feet of torque. The other is a plug-in hybrid found on the 2023 Volvo S60 polestar engineered trim. It is a 2.0-liter turbocharged and supercharged engine that can produce a total output of 455 horses and 523 pound-feet of torque. This car also features a transmission that is an eight-speed automatic with the EPA rated at 24 miles per gallon for the non-hybrid and 74 miles per gallon for the plug-in hybrid version.
Interior Features
The 2023 Volvo S60 has a luxurious, modern, and quality interior. It is designed with much room in the back for all your family members to sit comfortably. The seats are adjustable, meaning you can adjust the seat to fit your size. The seats are also heated and cooled to be comfortable in any weather and temperature. In addition, the 2023 Volvo S60 Core has a laminated panoramic moonroof with a power sunshade, allowing you to look outside and view the surrounding nature in Central Oregon without opening the door. The 2023 Volvo S60 also features a tailored dashboard that is customizable. You can choose the layout of your dashboard and scroll through the options to make it the most convenient for you.
The 2023 Volvo S90 Will Compliment Your Lifestyle
One of the most popular sedans here in Bend, OR is the Volvo S90. This luxury car will deliver high performance on the roadways. The new S90 is great for daily driving, and it's perfect for touring across long distances thanks to its comfortability and efficiency. Sedan lovers can choose from two available trims, and they're both fully furnished with high-end features. Expectations are high for this car, and here are some of its top features and functions.
Performance
Driving the new Volvo S90 is blissful because it is equipped with the brand's mild-hybrid system. This advanced system will deliver an even balance of power as the gas engine seamlessly blends in with the electric motor. Drivers will experience no lag when accelerating from a full stop. There are two powertrains that are available, which includes a four-cylinder engine. The engine's size is 2.0 liters, and this direct-injected engine is very efficient.
Turbocharging is part of the performance package to further enhance the power delivery. The mild-hybrid system also works by saving fuel without compromising the vehicle's performance. Energy is recovered and stored in the 48-volt battery when the driver applies the brakes.
In addition to that, Volvo's B5 powertrain is a great choice for those looking for good power. Its 295-horsepower engine can produce 310 pound-feet of torque and travel up to 32 mpg on the highway.
There's also a plug-in hybrid T8 powertrain that can provide Portland, OR drivers with 455 horsepower and 523 pound-feet of torque. All-electric mode will provide a driving range of up to 38 miles on a full charge.
You'll enjoy good traction thanks to the sedan's all-wheel-drive system. The car's low profile and long wheelbase delivers good road agility as the body feels planted to the ground. This full-size sedan sits well balanced on 20-inch wheels while exhibiting sharp aesthetics.
Design
Scandinavian styling is present with the design of the new Volvo S90. Some of the longest of lines can be seen sweeping from end to end, and the roofline is elongated. The sheer sleekness of this design is classic Volvo from a visual standpoint. There's a signature grille at the front, and it's beautifully flanked by the brand's "Thor-Hammer" LEDs for an unmistakable look. Beautiful C-shaped taillights are located at the rear. This lean design also hosts a well-sculpted hood and strong contours that are located on the lower door panels.
Technology
The new S90 from Volvo is no stranger to tech advancements. Located in the center dash is a 9.0-inch infotainment screen that has a Google-based interface. This advanced touchscreen allows Central shoppers to access Google Maps or Google Assistant with ease.
This sedan will come with a premium sound system via Bowers/Wilkins or Harman and Kardon audio. These audio systems will produce sound quality that is enriched via clear highs and deep bass. SiriusXM® radio is onboard and offers dozens of news, sports and music channels. You can even stream your favorite music to the audio system. We can't forget to mention that hands-free functionality is available thanks Bluetooth® connectivity and voice commands.
The Volvo S90 has a USB port that can be used to connect other external devices. High-resolution graphics are visible for the car's Head-Up display. Central Oregon drivers can easily read the speedometer or view the navigational directions while staying focused on the road.
We invite you to come down to Volvo Cars Bend to speak with our team today in Bend, OR. We'll be happy to let you take a test drive in one of our S90 sedans, whether you like the look of the base S90 Core or the premium-tier S90 Ultimate!